Wordpress Maintenance in Tampa Bay, Florida
Wordpress Maintenance & Care Plans
Our WordPress maintenance & management services allow you to focus on your business growth by keeping the
website driving your business and your brand safe, secure, and healthy.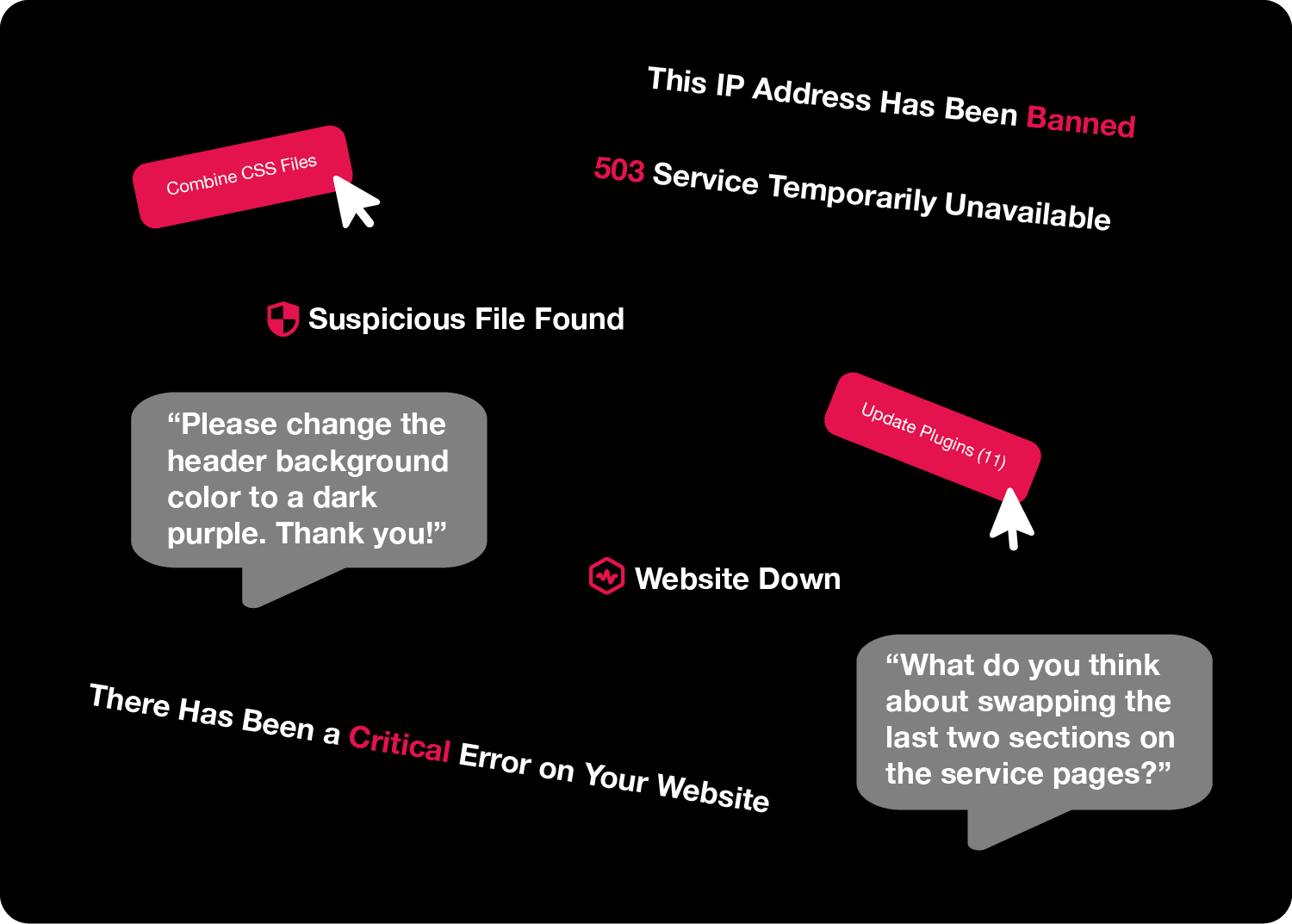 Why Your Site Needs Maintenance
Take the stress out of WordPress maintenance
No websites are "set-it and forget-it". WordPress receives frequent updates for security and performance, usually every month. To ensure a WordPress site's security, its core code and plugins need constant maintenance so they're aligned with the updates. Our Maintenance packages are great for clients that do not want to be concerned with these tasks.
01
Private & Fast Cloud Hosting
We offer ultra-fast hosting plans for WordPress to ensure your site gets the highest performance possible with your own private and dedicated server.
02
Weekly Updates & Bug Fixes
Having your website always up to date is essential for security and performance. If anything breaks from an update, it's covered and taken care of.
03
When we say 24/7, we actually mean 24-hour monitoring. If someone tries to mess with your site, we'll know right away and take action. We keep backups, logs, and several layers of security.
04
Most website owners don't know if their site is up at all times. When a site goes down, even for a short time, that can result in lost business. If your site goes down, we are instantly notified.
05
Performance Monitoring & Optimizations
Sometimes, things happen with a website that can slow it down. One day it works perfectly, but then it starts to slow down. We have daily speed tests, and when there's a slowdown, we identify the cause and speed it back up.
06
Dedicated & Personal Support
The gem of a care plan, having a team that cares. You'll always have someone to contact. We have a dedicated Client Care Manager, and you'll have your own Project Management Portal.
Knowing Your Site is Healthy
Feel assured and confident that your website is something you don't have to worry about with monthly data-driven website reports.
A clean website lasts a lot longer as the performance stays updated & the back office stays clean and organized.
Building relationships is a core principle of pours. And we start by being reliable and fast to always respond.
Saving in Time & Expenses
A higher-performing site means more sales and conversions.
Website Maintenance & Dedicated Support
The foundation of our maintenance services. Perfect for static WordPress sites that require maintenance but little to no updates.
Two 30-Minute Tasks A Month
WordPress Core, Plugin, and Theme Updates

Fix website errors and bugs

Technical Support and Troubleshooting

Edit existing page content

Edit existing page/template design

Additional 30-minute tasks discounted at $25 each
Our most popular plan. This plan is perfect for websites that require frequent updates. (Required for websites with WooCommerce)
Four 30-Minute Tasks A Month
Everything in Basic and Advanced

WooCommerce technical support

Add-on Included: Publish new pages

Additional 30-minute tasks discounted at $25 each
The Ultimate WordPress maintenance plan for your site. Perfect for your website's dedicated account manager who need priority support and a fully- managed WordPress website.
8 Hours Of Unlimited Tasks A Month
Everything in Basic, Advanced and Professional

Add-on Included: 3rd party plugin support

Add-on Included: Create new template design/landing page

Additional 30-minute tasks discounted at $15